Original Vapesoon DT231-H 810 Replacement Drip Tip for TFV8 / TFV12 Tank / Goon / Kennedy / Reload RDA
Original Vapesoon DT231-H 810 Replacement Drip Tip for TFV8 / TFV12 Tank / Goon / Kennedy / Reload RDA
$1.69
The Original Vapesoon 810 drip tip is made from resin with 12.5mm diameter 810 connector. It is suitable TFV8 Tank, TFV8 Big Baby Tank, TFV12 Tank, for Goon RDA, Goon RTA, Lost Art Goon RDA, Goon LP RDA, Kennedy 24 / 25 RDA, Battle RDA, Mask RDA, Kryten RDA, Mad Dog RDA, Mask RDA, CSMNT Cosmonaut RDA, Unholy RDA, Apocalypse GEN 2 RDA, Reload RDA, Mini Battle RDA, Avid Lyfe Captain Cap II, Sith RDA, Reload RTA. This item also has other Version to choose.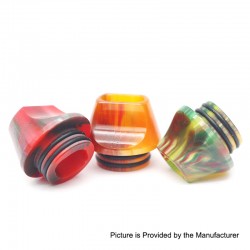 publié le mardi 14 mai à 03:14
Ecrire un commentaire
Tout le monde peut publier un commentaire.