Original OBS Cube Replacement M3 Mesh Coil Head Core for OBS Cube X Kit
Original OBS Cube Replacement M3 Mesh Coil Head Core for OBS Cube X Kit
Original Price $17.99, Now Only $12.99
OBS M3 Mesh Coil has a resistance of 0.15ohm and is rated at 50W to 70W (best at 55~65W). The OBS M3 Mesh Coil is perfectly compatible with the OBS Cube X Kit. The OBS M3 Mesh Coil is more durable and stable as well. Just get it as spare parts for your Cube X Kit. 5 PCS in each pack.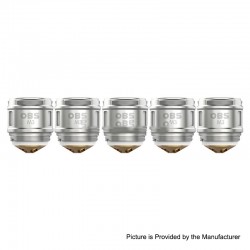 publié le jeudi 13 juin à 03:34
Ecrire un commentaire
Tout le monde peut publier un commentaire.